THE MIRACLE OF THE LITTLE PRINCE, after IDFA, HOTDOCS, Film Forum NY, has won a golden calf for the editing and was nominated as the best long documentary 2019

THE MIRACLE OF THE LITTLE PRINCE
International Documentary Festival Amsterdam wrote by selecting the film for IDFA 2018:
The film is not only about the importance of (rare/vulnerable) languages and cultures but also a meditation on how to live and connect to the natural world in its broadest sense - to humans, animals and all that lives through the wisdom and clarity of Le Petit Prince. With a wonderful pace, great cinematography and some fantastic characters, and the wonderful VO of Johan Leysen.
---
THE MIRACLE OF THE LITTLE PRINCE :

'For centuries the roads have been deceiving us, only from the sky can you discover the true face of Earth.' Antoine de Saint Exupéry
Next to the Bible, The Little Prince is the most translated book in the world . It has versions in over 300 different languages. Why do people from very diverse cultures choose precisely this book to keep their languages and cultures alive?
Language makes us what we are. It is essential to be allowed to think, dream and speak in your mother tongue.
From the heavens, where the pilot and the author of the book, Antoine de St Exupéry, felt most at home, this film has landed among the dedicated translators of 'The Little Prince'. They all fight for the preservation of their language which is under threat. Why do people from the most diverse cultures choose this book to keep their language and culture alive?
In the desert of Moroc, among the sand and stars, live writer Lahbib Fouad and his friend, the poet Omar Taous. For over 30 years they've been fighting for Tamazight, the Berber language that's officially the second language of Morocco, b ut that's barely written or read. The fact that the little prince talks with anima ls is commonplace in their culture.
In the land of the Sami, at the border of Norway and Finland, we meet Kerttu Vuolab. When she was young, she was bullied at boarding school because of her language and culture. After the tragic death of her younger sister, who drowned in the river near her home, she was even lonelier than before and she found comfort in The Little Prince. While attending university, she decided to translate the book into Sami.
The Tibetan translation is by Tashi Kyi and Noyontsang Lamokyab. Both of them live as exiles in Paris, cut off from their family, their landscape, culture and language. That language is menaced and purged by the Chinese.
Through the air we connect these languages and cultures. With the words of the little prince we stretch a line across the world in which the notions of comfort and hope, that a re so beautifully interlaced in The Little Prince, find their echo in the struggle of the translators and their friends. No matter how much their cultures differ, what connects them is that they a re able to convince us that it is essential for people to be allowed to think, dream and speak in their native language .
https://vimeo.com/162526532 ww: pieterdoc
PROJECT INFORMATION Country of production Netherlands Running Time 90 minutes Production Status Development Expected Release 2017/2018 Dutch broadcaster NTR This film is supported by the Dutch Cultural Media Fund Pieter van Huystee Film Amsterdam, Netherlands www.pvhfilm.nl t: 0031 (0)20 421 0606 // mob: 0031 (0)6 1747 9860 // pieter@pvhfilm.nl // pieterdoc@gmail.com
Marjoleine Boonstra, director & script Marjoleine Boonstra is a Dutch filmdirector and photographer with over 25 years of experience. Her documentaries always circle around the theme: what keeps mankind alive. In 2015 her first feature film Kurai KuraI, tales on the wind premiered (Prix Emile Guimet 2014). She combines a poetic visual approach with a compassionate view on the world, which make her documentaries striking and touching . www.marboni.nl
Lies Janssen, researcher & script Lies Janssen is a Dutch researcher and scriptwriter. The last 10 years she teams up often with Marjoleine Boonstra. Together they made Keep on steppin', seven New Orleans sketches, about New Orleans after Katrina, inspired by William Faulkner. In 2014 they worked together on The silence of Mark Rothko, in which they explore what lies behind Rothko's imposing colored planes and visualize his sources of inspiration.
Pieter van Huijstee, producer Pieter van Huystee started his own production company In 1995. He worked with renowned Dutch documentary filmmakers like Johan van der Keuken (Global village), Heddy Honigmann (Crazy) and Renzo Martens as well as promising young makers like Niels van Koevorden and Sabine Lubbe-Bakker (Ne me quitte pas). His documentaries, feature films, single plays and shorts screened at festival all over the world and have been awarded many times.
recensie:november 2018 Idfa: 'The Miracle of the Little Prince'

---
Screening at filmforum, New York City , August 2019


Join Words Without Borders for a screening of Marjoleine Boonstra's The Miracle of the Little Prince at the Film Forum in New York City on Wednesday, August 28 at 8:10 p.m. The screening will be followed by a Q&A with the filmmaker, moderated by Susannah Greenblatt.
"What planet have I landed on?" asked the prince.
"Planet Earth," replied the snake. "This is Africa."
"Aha. But is there no one living on this planet Earth?"
"We're in the desert. Nobody lives here. But planet Earth is a big place," said the snake.
Antoine De Saint-Exupéry's The Little Prince is the second most translated book on planet Earth (the Bible is the first). The lines above have been translated into 375 different languages. They also float above the opening shot of Dutch filmmaker Marjoleine Boonstra's documentary The Miracle of the Little Prince. Against a bird's-eye shot of a smoldering volcano, this planet Earth feels strange, empty, even hostile. But this is part of Boonstra's genius: she knows how to capture the strangeness in the familiar and the familiar in the strange.
It is unusual for translators to be the protagonists of a film. In fact, they are more often praised for their invisibility. But Boonstra follows Saint-Exupéry's book around the world—from Morocco to Samiland to El Salvador to France—taking as her subjects the translators who have brought The Little Prince into Tamazight, Sami, Nawat, and Tibetan. These are four of the world's endangered languages, meaning there's a high likelihood that there will not be a next generation of fluent speakers. These translators grapple with fascinating questions—like how to translate "rose," which is not native to El Salvador and not codified in Nawat. They also grapple with more daunting ones—does a book have the power to keep a language alive for future generations?
I spoke with Marjoleine Boonstra about language justice, the ways a mother tongue shapes us, and how to ask a question like a Little Prince. The day after the interview, I was standing on line at a grocery store in Brooklyn and saw on the bicep of the woman in front of me a little tattoo: a line drawing of a hat—or was it a boa constrictor eating an elephant? (If this image is difficult to conjure in the imagination, I highly recommend you open Saint-Exupéry's book to the first page.) And perhaps this is what's so miraculous about The Little Prince: it has left its mark on people across the entire globe, just as it has left its mark on the people right in front of you.
Susannah Greenblatt (SG): In the The Miracle of the Little Prince, you ask people all over the world about their first experiences reading The Little Prince. What was your first experience with the book?
Marjoleine Boonstra (MB): I'll tell you a secret: before starting with the film, I hadn't read it at all. So there is no beautiful story of me being a small kid reading the book. I read it when I was studying Italian. I went into a book shop in Italy and there was The Little Prince in Italian. So this was the first time I met The Little Prince, not in Dutch, not in French but rather in Italian.
SG: Well, I have to tell you a secret. I didn't read it as a child, either.
MB: Well then, we can shake hands.
SG: Reading it as an adult, it's sort of strange to me that it's thought of as children's literature, because the questions it's asking are enormous. There's nothing "little" about it.
MB: You're right; it's really strange.
SG: What captured your imagination about The Little Prince? What made you want to make a film about it?
MB: Well, we wanted to make a film about translating and the difficulties you come across when you transform one language to another. And then I was thinking in my research, How can we make it more vivid? And then we thought, Why don't we focus on a book that is translated around the world.
I love the character of the Little Prince so much. When I do interviews with people, I don't ask very much; as a documentary maker, I like to observe. And the Little Prince is, in such a wonderful way, observing the world without saying what is good or what is bad. So I thought it would be nice to be a character like he is, to open up the world and ask the simple question, "What are you doing what you are doing today, and why?"

We don't want to just talk about language; we want to experience what language is through emotional, personal stories.
SG: The Little Prince comes from another planet; he is kind of an alien in that way. Do you feel as though being an outsider enables you to ask those very simple questions?
MB: I think as a documentary maker, you're always someone from another world. I made a film about Hurricane Katrina. I was really a stranger, but I had human interest. I was falling out of the plane and asking people how it was and how they continued on with life. It's not only with this film that I feel like an alien; I feel it more often than that.
SG: What drew you to translation as a subject for a film?
MB: I think that language is more important than we are aware of. Throughout the process of making this film, I realized that language is also used to undermine people—like the Sami translator who wasn't allowed to speak her mother tongue when she went to boarding school at age twelve. Or what's going on in Tibet nowadays, as the translator Noyontsang Lhamokyab was telling us: the most important documents, the ones you need to sell your own land, to sell your house, have to be in Chinese, but what if you don't understand Chinese, only Tibetan? It's a serious question; it's a serious subject; it's a serious problem. I want to touch it only to say, "Hey, hi. Are we aware of what language can do with our lives?" We are now so focused on the image, but to understand each other well through language is very important.


Image: Still shot from "The Miracle of the Little Prince"

SG: One thing that surprised me about the film was how personal the translators' stories were—how much they were characters in the film.
MB: We were looking for people who had a personal story with the book. The Sami translator's story is most clear. Before we shot, we visited her and we really became close friends and that maybe also made her open up. We don't want to just talk about language; we want to experience what language is through emotional, personal stories. I gave it a try by choosing this subject.
SG: There was an interesting paradox that struck me in the film. The translators talk about The Little Prince as having these universal philosophical questions, but they're also using it as a tool to push back against universality and globalization: to protect the cultures, histories, and traditions that live in these languages.
MB: But isn't that a paradox of how we live together now? We are losing cultures, and yet there are a lot of tourists traveling the world looking for exceptional cultural heritage. We want to open up everything for everyone, even our houses with Airbnb, and on the other hand, we want to keep cultures alive.

I'm really a watcher—I want to be behind the camera . . . and I always try to keep my interviews simple so that people speak the language of the world.

SG: What about the book were you hoping to translate into the visual language of your cinematography?
MB: For me the animals were very important. What I like about animals is that they are always in silence, observing you. And that's what I tried to film: the amazing look of an animal. You are looking back with all these lenses on your camera. You try to get as close as you can and they are so kind in response. It's like a whispering conversation—me with my camera and then the animal looking back at me. And I think that the Little Prince was also looking in a silent, observing way, with a simple question.
SG: Why did you choose to visit the four places you selected?
MB: We wanted to start in the past with a very old language, so that brought us to Morocco. We wanted to be in the desert, because Saint-Exupéry had an accident with his airplane engine in the desert. Tamazight is a very, very far-reaching language but it's a language in danger. It was the language of the Berbers, nomads. Then, we thought, if we have the sand, why don't we go to the white snow, and that brought us up to Samiland. We wanted to go to to El Salvador because Saint-Exupéry's wife was born there. And then I also really wanted to make a very serious section, and that brought me to Tibet
.

Image: Still shot from "The Miracle of the Little Prince"

SG: What is it like to explore language through film, which is such a visual medium?
MB: What interests me about filmmaking is that you always have to deal with language, with music, with rhythm, and with the picture. I'm not that good with language myself. I'm really a watcher—I want to be behind the camera, I want to make pictures, I want to observe. So I don't speak seven languages, for instance. But language is very important, and I always try to keep my interviews simple so that people speak the language of the world.
Once, I did an interview with a Japanese artist and he was telling me how it was for him to work with Do Ho Suh. And then I said, "Can you now speak about this in your own language?" He transformed: his body language totally started to come to life, he started to talk with his hands, with his whole body. And when he spoke English, it was all gone. And I said, "Now we have watched how you answered this in Japanese." And he said, "Marjoleine, I wasn't even aware of it. It's beautiful to see myself back in the Japanese language." So I think that is what language is. Language is much more than how we pronounce it. It's in our bodies.
Marjoleine Boonstra is a Dutch film director and photographer with over twenty-five years of experience. Her documentaries always circle around the theme "what keeps mankind alive." Her first feature film, Kurai Kurai—Tales on the Wind, premiered in 2015. She combines a poetic visual approach with a compassionate view on the world, which make her documentaries striking and touching.

_________________________________________________________________________________________________________________________

Link to the 10th EU Human Rights Film Days festival in Turkey-2020
Kucuk Prens Mucizesi with a turkeys subtitles :
https://www.festivalscope.com/film/the-miracle-of-the-little-prince-kucuk-prens-mucizesi/
_____________________________________________________________________________________________________________

IDFA: The Miracle of THE Little PRINCE, Verbonden door een boekje

IDFA: The Miracle of THE Little PRINCE, Verbonden door een boekje

31 oktober 2018 – verschenen in nr. 44
De kleine prins landde op aarde en was verbaasd dat hij niemand zag. Verkeerde planeet? De slang legde hem uit dat dit woestijn was, vandaar. 'Wat kom je doen?' 'Ik heb moeilijkheden met een bloem.' 'O', zei de slang en ze zwegen. Een intrigerende, geestige tekst. Die we in fraai Frans horen dankzij de stem van de verteller (Johan Leysen), oftewel Antoine de Saint-Exupéry die zijn filosofische sprookje in 1943 schreef. Vliegenier was hij en misschien zien we daarom in de opening van The Miracle of the Little Princeadembenemende luchtopnamen van woestijngebergte. Of is het de aanvliegroute van het prinsje zelf die het heelal, waaronder de aarde, verkent.
De camera van regisseur Marjoleine Boonstra landt bij een Berbertent in de Marokkaanse woestijn. De zon komt op, de dromedaris wordt gemolken, kinderen lopen acht kilometer naar school. Daar leren ze Arabisch en sinds 2003 ook hun eigen Tamazight. Toen tolk/vertaler Lahbib Fouad voor het eerst naar school ging was daar nog een meester die de kinderen uitsluitend aansprak in het vreemde Arabisch. Fouad heeft De kleine prins in en naar het Tamazight vertaald. 'Naar', omdat het woord 'waterkraan' Berberkinderen niets zegt. Dat werd 'waterput'.
Hier ligt de sleutel tot deze documentaire: het boek is ontelbare malen vertaald, ook in bijna uitgestorven talen. Vier daarvan vormen dit beeldschone, melancholieke vierluik. Alle vertalers zijn hoeders van uniek cultuurgoed en daarmee van de mensen die de taal nog spreken of zelfs schrijven (het Tamazight kent een eigen schrift in zand of op rotsen geschreven/gekrast). Uit de tekst van het humanistische sprookje halen ze elementen die ze van toepassing verklaren voor eigen taal, cultuur, volk. Een tweede Tamazight-tolk ziet in De kleine prins een spiegel van de Berbercultuur die geen strijd en oorlog kent maar respect voor natuur en andere culturen – sympathiek maar ook wishful, vrees ik.
Vier miniaturen, verbonden door een boekje. We belanden in het uiterste Noorden van Europa, waar de rendierhouders Sami spraken/spreken. En een indrukwekkende vrouw samen met haar inmiddels dementerende moeder vertaler en schatbewaarder is. In El Salvador, waar na een opstand van de oorspronkelijke bevolking in 1932 niet alleen dertigduizend mensen werden afgeslacht, maar ook hun taal, Nawat. Gebruik ervan was levensgevaarlijk. Een man leerde het van zijn oma, die zelfs de hond de kamer uit stuurde bij de les. Een linguïst probeert daar samen met drie oudere vrouwen tot een Nawat-vertaling te komen. In zijn ogen is de ijdele, stekelige roos waar het prinsje op zijn eigen planeetje problemen mee had het land Salvador zelf – waar De Saint-Exupéry's echtgenote vandaan kwam(!).
En we belanden in Parijs. Why? Daar wonen twee Tibetaanse ballingen, wier taal vermorzeld wordt onder het Chinees. We horen van collectieve en individuele tragedies. En we zien schitterende landschappen, vaak met dieren die immers in De kleine prins ook spreken en filosoferen. Een juweel. Alles van waarde is weerloos, maar niet helemaal.
The Miracle of the Little Prince draait op de Groene Amsterdammer-dag op IDFA.
Walter van der Kooi is tv-recensent van De Groene Amsterdammer.
---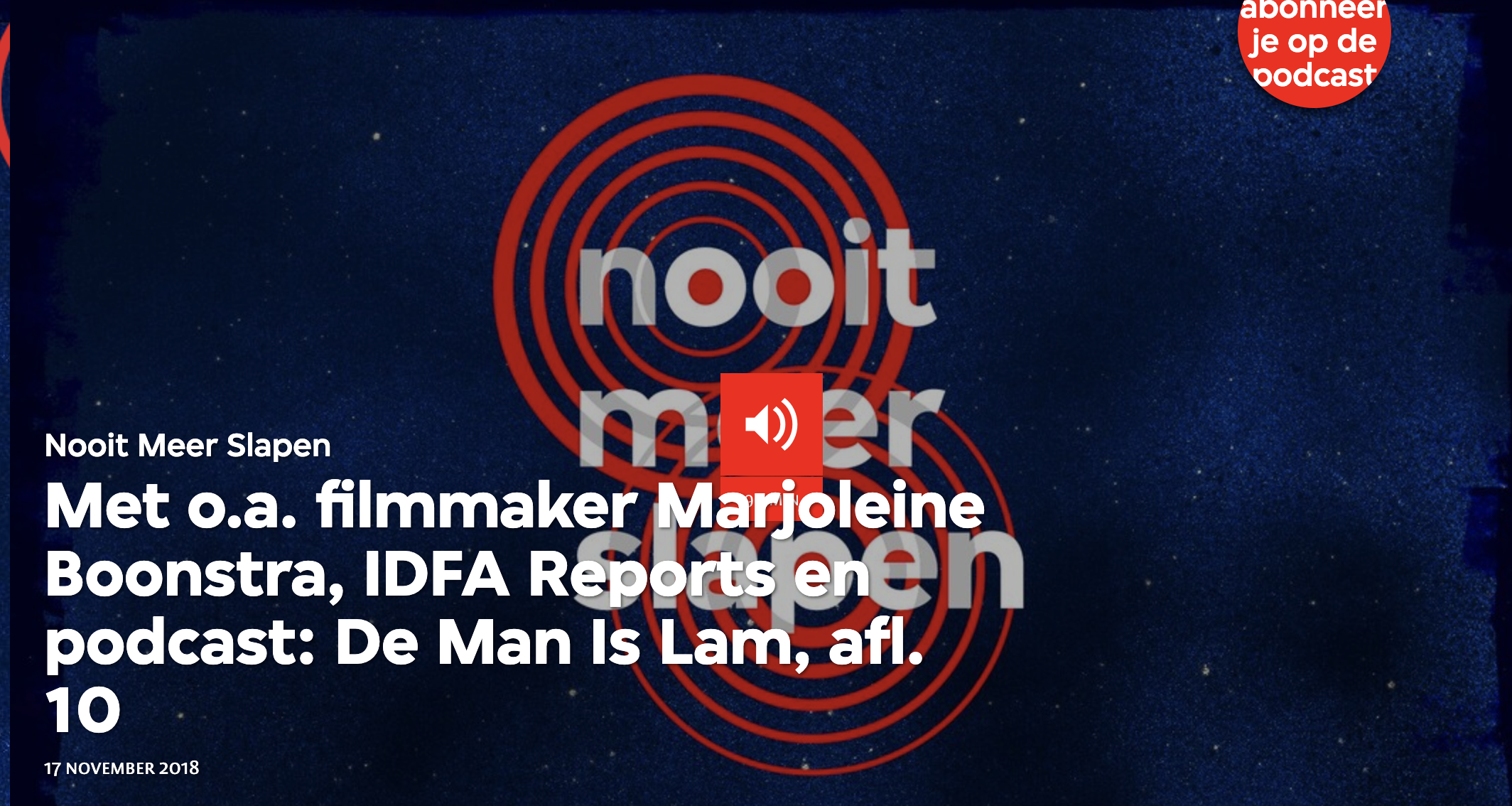 https://www.vpro.nl/nooitmeers...
Om dit programma te willen beluisteren klik op bovenstaande link