KEEP ON STEPPIN' , Seven New Orleans sketches, (68 ')
In 1925 William Faulkner lived in New Orleans for a few months writing short sketches in which he called the city to life. Inspired by Faulkner's impressions. Marjoleine Boonstra drifts through the devastated streets of New Orleans, at any hour of the day, looking for the fears and dreams of people whose lives have gone adrift as a result of the hurricane Katrina.
She meets violent drugs dealers, an old carpenter, three sisters, a lost relief worker, an inconsolable actress, lanky young boys, two friends in wheelchairs, a wise composer.In the near surrealist décor of the city they talk about their lives. People who, in the aftermath of Katrina, are trying to get their lives back on track, while the city sweeps up the debris of its soul.
Faulkner described New Orleans as a courtesan, not old and yet no longer young, who shuns the sunlight, that the illusion of her former beauty be preserved". But while the nightly visitors to Bourbon Street may behave as if nothing has happened, she herself has no illusions left.
The 83-year-old carpenter Herbert Gettridge is rebuilding his own house, which he constructed with his own hands, and which is now largely wrecked for the third time. He is one of the few inhabitants who returned to the Lower Ninth Ward, the worst hit area of New Orleans. He has seen much of the world, but his house is his life. And however hard the blows of fortune hit him: "I just keep on stepping, that's the way we say it."
Harold Battiste, too, the godfather of music in New Orleans, plods on indefatigably. As trees are rooted in the earth so he is rooted in New Orleans. He stands in tremendous awe of the forces of nature, but even if the elements rant and rave, and uproot everything, they get no hold on the rhythm and the soul of New Orleans.

Documentary 68" Keep on Steppin"

IN DUTCH: De Stad en het Verlangen, zeven New Orleans Sketches
William Faulkner woonde in 1925 een aantal maanden in New Orleans en schreef er korte sketches. Daarin roept hij de stad in straatscènes tot leven. Geleid door Faulkners impressies dwaalt Marjoleine Boonstra bij nacht en ontij door de verwoeste straten van New Orleans op zoek naar de angsten en dromen van mensen, wier levens door Katrina op drift zijn geraakt.
Ze ontmoet gewelddadige drugsdealers, een oude timmerman, drie zusjes, een verloren hulpverlener, een ontroostbare actrice, opgeschoten jochies, twee vrienden in een rolstoel, een wijze componist. In het bijna surrealistische decor van de stad vertellen zij over hun leven. Mensen die in de schaduw van Katrina hun leven weer op de rails proberen te krijgen, terwijl de stad de brokstukken van haar ziel bij elkaar veegt.
Faulkner beschreef New Orleans als een courtisane van middelbare leeftijd, "die het zonlicht mijdt opdat de illusie van haar vroegere glorie behouden blijft". Maar hoezeer de nachtelijke bezoekers van Bourbonstreet zich ook gedragen alsof er niets is gebeurd, illusies maakt zij zich niet meer.
De 83-jarige timmerman Herbert Gettridge bouwt inmiddels voor de derde keer zijn grotendeels verwoeste en door hemzelf met de hand gebouwde huis weer op. Hij is een van de weinige teruggekeerde bewoners van de Lower ninth ward, de zwaarst getroffen buurt van New Orleans. Hij heeft heel wat van de wereld gezien, maar zijn huis is zijn leven. En hoe groot de tegenslagen voor hem ook zijn: "I just keep on stepping, that's the way we say it."
Ook Harold Battiste, peetvader van de muziek in New Orleans, ploetert onvermoeibaar door. Zoals bomen in de grond geworteld zijn, zo is hij verbonden met New Orleans. Hij koestert een enorm ontzag voor de natuur, maar hoe hard de elementen ook tekeergaan en alles ontwortelen, op de ziel en het ritme van New Orleans krijgen ze geen vat.
Scenario/regie: Marjoleine Boonstra
Scenario/productie: Lies Janssen
Camera: Erik van Empel
Geluid: Piotr van Dijk
Montage: Menno Boerema
Geluidsontwerp: Mark Glynne
Muziek: Harold Battiste
Einredactie:Bert Janssens
Productie: HUMAN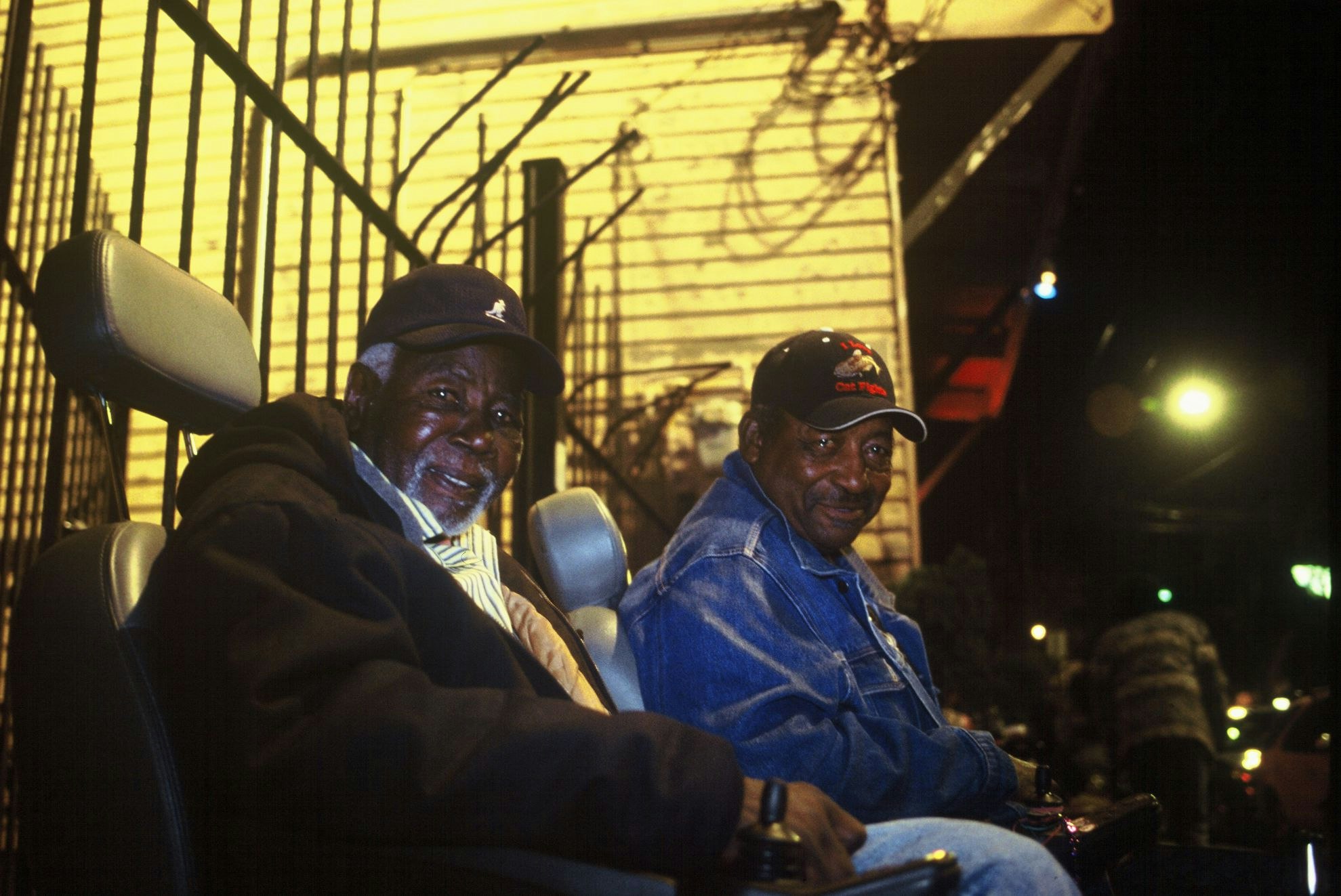 Ernest Barber en James Vinson op hun hangplek in Frenchmenstreet